May Dance Recital Info
Recital costume pictures, show days/times & more now available!
Review Recitals for all details!

Parent Visit & Costume Measurement
Monday, Nov. 27 - Saturday, Dec. 2nd during regular class time!
Parents watch the first half of class in the room and then measure/select costume sizes!

Celebrating our 10th Season!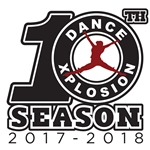 Stay tuned for special events, contests & celebrations throughout the season!




Spring Class Enrollment OPEN
Girls & Boys, Ages 2-18
Spring classes begin January 3rd
Enrollment is open until January 31st!

Enrollment can be done @ both
DXP1 and DXP2 or ONLINE!

Dancers enrolled during Spring 2017 in Levels 1+ receive level recs for Fall-Spring 2017. Access the recs in your online account!

Review Fall-Spring Class Schedule

Review Descriptions & Attire for details on classes and what to wear!

Class at DXP1 or DXP2?
When reviewing the class schedule note the studio room letter on each column.
Studios A, B or C @ DXP1
Studios D or E @ DXP2



Winter Holiday Hours
Last Day of Fall Class: Tue, Dec. 19
First Day of Spring Class: Wed, Jan. 3

DXP1 Studios
Closed: Wed, Dec. 20 - Tue, Jan. 2

DXP2 & Bright Lights Dancewear
12pm-6pm: Wed, Dec. 20 - Fri, Dec. 22
10am-2pm: Sat, Dec. 23
Closed: Sun, Dec. 24 - Wed, Dec. 27
12pm-6pm: Thur, Dec. 28 - Fri, Dec. 29
10am-2pm: Sat, Dec. 30
Closed: Sun, Dec. 31 - Mon, Jan. 1
12pm-6pm: Tue, Jan. 2

Review Contact Us for studio locations, hours, and phone numbers!
DXP1 Studios
(near Starbucks)
DXP2 Studios + Bright Lights Dancewear
(near HEB Grocery)