Recital Info Now Available
Review Recitals for event dates, costume details, driving directions, Backstage Parent info, gifts & more!
Enroll in January and your dancer CAN perform in Recital!
Summer Schedules COMING SOON
Camps & Workshops Schedule Coming March 2019

Summer Classes Schedule
Coming late Spring 2019
Review Contact Us for studio addresses, hours, and phone numbers!
Spring Class Registration OPEN
Enrollment open through February 2019 for Creative Dance, Toddler Bop & Superhero
Deadline to perform in Recital has passed BUT dancers who enroll in February are able to take Spring classes!
Enrollment can be done @ both DXP1 and DXP2 or ONLINE
Review Class Schedule
Girls & Boys, Ages 2-18
Review Descriptions & Attire for details on classes and what to wear!
Drill Team Workshop OPEN
Monday, February 18
12pm-3pm
Open Level
Ages 6th Grade+

Enrollment can be done @ both DXP1 and DXP2 or ONLINE
("Camps/Wkshops" season)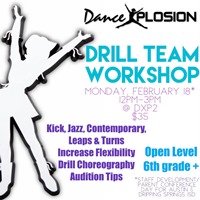 Class for a Cure Fundraiser
Master Classes & Improv Challenges
Raise money for Layla's Legacy Foundation
Sunday, February 24, 2019
Ages 5+
Times based on dancer's age/level
Dancers from ALL studios welcome!
Be inspired by the incredible Robyn Williams, flying to Austin from NYC!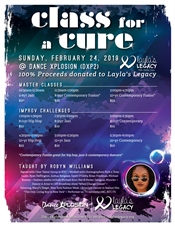 Enrollment can be done @ both DXP1 and DXP2 or ONLINE

Note: When registering online click/enroll in each Master Class & Improv Challenge separately