Dance Xplosion® has a variety of summer classes, camps, workshops, and intensives for dancers 2 - 18 years old!

SUMMER CLASSES
Register ONLINE for summer classes, camps, workshops and intensives!

PLEASE NOTE: when using the online registration portal you must register separately in each Summer Session to get your dancer enrolled in both Sessions (i.e. to enroll for all 8 weeks of Summer classes)

Classes in Studio "A", Studio "B" and Studio "C" are @ DXP1 (near Starbucks)
Classes in Studio "D" and Studio "E" are @ DXP2 (near HEB & Bank of America) across the street from DXP1

Summer 2018 Class Schedule
Enrollment OPEN
Summer Session 1: June 4 - June 30, 2018 (no classes July 2-7)
Summer Session 2: July 9 - August 4, 2018
Dancers can enroll at any point during the summer!

PLEASE NOTE: Dancers in Levels 1+ classes during SPRING 2018 should continue in the same level during the SUMMER. Level advancements happen in the FALL.

Dancers in preschool classes and dancers STARTING Level 1 classes are age-based. Level advancement is based on age and dancers must simply be the required age by the 1st day of the SUMMER Session to advance.

HIGH SCHOOL DANCERS: Click HERE for full details, terms and conditions on the Summer Class Card we offer all dancers who are entering high school (starting 9th grade in Fall 2018) and above, including but not limited to members of high school drill, color guard and dance teams. Classes are then taken on a drop-in basis using the card.

Summer 2018 Camps, Workshops, Intensives Schedule & Descriptions
Enrollment OPEN for all dancers!
All camps @ DXP1
Workshops @ DXP1 and DXP2

HALF-DAY Camps (Morning & Afternoon)
5 day camps = $195
3 day camps = $125

ALL-DAY Workshops
1 day workshop = $85 (specific workshop days noted on Description)

PLEASE NOTE: if a student misses a day(s) for any reason prorated fees for missed time cannot be refunded and no make-up days are allowed in another camp, class, workshop or intensive.

PLEASE NOTE: withdrawal may be submitted in writing/email up to two weeks before the start date of the event for a full refund. No refunds will be issued with less than two weeks notice unless we can fill your dancer's spot.

What to Wear for Camp: An email will be sent to parents the week before each camp begins with all of the clothing and shoe details! This includes any unique themes and characters.
What to Bring for Camp: Students are free to use the restroom whenever needed but 3-4yr olds should bring a "just in case" change of clothes. The studio will provide a snack and water each day of camp. Please notify us in advance of any food allergies.

Family & Friends Showcase: Every camp ends with a showcase for campers to peform what they've learned. This is an informal presentation during the last 30 minutes on the final day of camp. Friends and Family are invited and welcome to video and take pictures of the performance!


IGNITE Dance Intensive
Registration is OPEN!
Ages 6-18, Male & Female
Master Classes, Interactive Discussions, Mock Auditions, Scholarships & More!
Faculty for this year's IGNITE are being finalized but preview last year's to get an idea of the amazing week of dancing!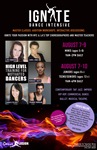 (click for details)