Dance Xplosion® has a variety of youth summer classes, camps and workshops!

Register ONLINE for Summer!

Summer 2021 CAMPS & WORKSHOPS - Schedule & Descriptions (click for details)
Safety, Masks & Social Distancing Steps

Registration is OPEN!

HALF-DAY Camps (Morning & Afternoon)
5-day camps = $205

ALL-DAY Workshops
1-day workshop (9am-4pm) = $90

HALF-DAY Intensives
4-day intensive (12:30pm-4pm) = $170

ALL-DAY Intensives
3-day intensive (9am-3pm) = $295

NOTE: if a student misses a day(s) for any reason prorated fees for missed time cannot be refunded and no make-up days are allowed in another camp, class, workshop or intensive.

REFUNDS: withdrawal may be submitted in writing/email up to 2 weeks before the start date of the event for a refund minus $50 non-refundable deposit. No refunds will be issued with less than 2 weeks notice unless we can fill your dancer's spot.

What to Wear for Camp: An email will be sent to parents the week before each camp begins with all of the clothing and shoe details! This includes any unique themes and characters.
What to Bring for Camp: Students should bring a beach towel, snack and water bottle each day. Campers are encouraged to bring the minimum amount of personal items and will have a designated spot to keep their items.

Family & Friends Showcase: We are still determining if we will have the camp showcases this summer. No matter what, we will be taking pictures and videos of the campers throughout the event!

SUMMER CLASSES
Summer Class Schedule
Classes in DARK Gray on the schedule require you to register
Classes in LIGHT Gray on the schedule are drop-in
Enroll for REGISTERED and DROP-IN classes ONLINE
Some classes are REGISTERED for online during the 7-week Summer Session
Registration is open all summer and tuition is prorated based on when in the 7 weeks you register
* Creative Dance * Toddler Bop * Intro * Level 1 * Level Adv 1 * Drill Prep * Level 1/2 for 9+ *
Some classes are DROP-IN (pay by the class) and reserved online each week during the 7-week Summer
Starting @ 12pm each Saturday reserve your spots in the upcoming week's DROP-IN classes
* Level 1-2 for 13+ * Level 2 * Level 2/3 * Level 3/4 * Level 4/5 * Pointe *

Classes are also live streamed via ZOOM.
All classes offered via Zoom
The teacher's primary focus will be the in-person dancers but we want to provide the full class schedule via ZOOM.
NOTE: there are separate IN-PERSON vs ZOOM seasons in the online portal for both REGISTER and DROP-IN classes.

NOTE: Once you enroll in a ZOOM class you will access the ZOOM link via your enrollment/payment confirmation email and/or your DXP online account. If viewing on your DXP online account, select "View All My Classes" and the Zoom link will be the "Location Name" column for that specific class.
NOTE for DROP-IN classes: withdrawal may be submitted in writing/email up to 24 hours before the class for a credit or full refund. No refunds will be issued with less than 24 hours notice unless we can fill your dancer's spot.
NOTE: Dancers in Levels 1+ classes during SPRING 2021 should continue in the same level during the SUMMER. Level advancements happen in the FALL.
NOTE: Dancers in preschool classes and dancers STARTING Level 1 classes are age-based. Level advancement is based on age and dancers must simply be the required age by the class day.

HIGH SCHOOL DANCERS: Look for classes on the schedule noted *HS* and/or classes Level 2 and above (based on your level). These classes will achieve your required school and studio summer dance hours!
IGNITE Dance Intensive
Details for Summer 2021 - Coming soon!
Ages 5-19, Male & Female
Master Classes, Interactive Discussions, Audition Workshops, Choreography, Scholarships & Inspiration!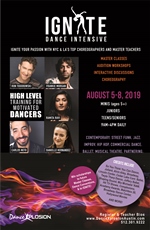 (click for example from Summer 2019)