Need Shoes, Tights & Clothes?
Visit our full retail store in the studio lobby!
Youth & Adult Sizes!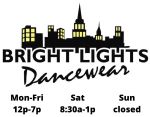 General Studio Info
Enroll ONLINE
Review Descriptions & Attire for details on classes & what to wear!
Please visit Safety, Masks & Social Distancing for Details
*Masks are required at all times for anyone who enters the building ages 3+, regardless of vaccination status. This includes in the lobby, store AND taking class.
Visit Contact Us for studio
hours and contact info
Fall-Spring Class Registration OPEN
Enrollment open through January 2022
Enroll ONLINE
IN-PERSON and live stream ZOOM
Girls & Boys, Ages 2-18
Visit Fall Classes for the Schedule & Details
Enroll ONLINE
Adult Workout Class
Thursdays @ 9am
Free Trial Class
No Dance Experience Required
Walk-in, Enroll Online or Contact Us to reserve your spot!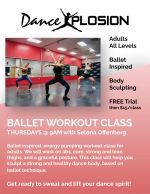 Holiday Hours
No regular classes Monday-Saturday, November 22-27
Front Desk & Bright Lights Dancewear Hours:
Monday & Tuesday, Nov. 22 & 23
12pm to 6pm
Turkeys & Tutus Thanksgiving Camp - Enroll NOW!
Monday & Tuesday, Nov. 22 & 23 9am to 12pm
Girls & Boys, Ages 4-8
Dancing, games, crafts & Zoom performance!
Enroll ONLINE