Need Shoes, Tights & Clothes?
Visit our full retail store in the studio lobby!
Youth & Adult Sizes!
Dance & Drill Prep Workshop
Monday, January 16
Grades 6+
Open Level
11am-3pm
Enroll ONLINE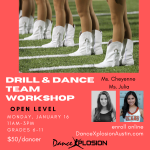 Recital Participation Form
Please complete by Jan 31, 2023
Recital is May 26-28, 2023

Visit Recitals & review your emails for more details!
General Studio Info
Enroll ONLINE
Review Descriptions & Attire for details on classes & what to wear!
*Masks are currently optional. This includes in the lobby, store AND taking class.
Visit Contact Us for studio
hours and contact info
Spring Classes OPEN
Registration open until Jan 31, 2023
New enrollees CAN perform in Recital
Girls & Boys * Ages 2-18
10+ styles * 90+ classes
Returning Dancer in Level 1-5
Review the Class Level Recs on your dancer's online account!
New Dancer in Level Adv 1-5
Contact us for level placement!
New & Returning Dancer in Preschool - starting Level 1
All classes are age-based!
Must be minimum age by Sept. 1st
Visit Fall-Spring Classes
Enroll ONLINE
Summer Camps 2023
Schedule & details coming soon!