Need Shoes, Tights & Clothes?
Visit our full retail store in the studio lobby!
Youth & Adult Sizes!
Dance & Drill Prep Workshop
Monday, February 20
Grades 6+
Open Level
11am-3pm
Enroll ONLINE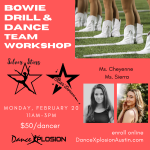 Spring Break Hours
NO classes Monday, March 13 - Saturday, March 18
Classes resume Monday, March 20
Spring Classes CLOSED
Registration is closed for Spring Classes
May Dance Recital
Recital is May 26-28, 2023
Visit Recitals & review your emails for more details!
General Studio Info
Enroll ONLINE
Review Descriptions & Attire for details on classes & what to wear!
Visit Contact Us for studio
hours and contact info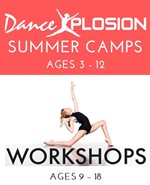 Summer Camps OPEN
Registration open for Summer Camps!
Ages 3-12, Girls & Boys
No Dance Experience Required
Visit Summer Camps
Enroll ONLINE
Summer Workshops OPEN
Registration open for Summer Workshops!
Ages 9-18, Girls & Boys
Intermediate & Advanced Levels
Visit Summer Workshops
Enroll ONLINE
Spring Break Camp OPEN
Monday, Mar 13-Wednesday, Mar 15

Ages 4-8, Girls & Boys

Enroll ONLINE