Winter Holiday Hours
No classes Thursday, Dec 22 -
Saturday, Jan 7
Spring classes start Monday, January 9
Need Shoes, Tights & Clothes?
Visit our full retail store in the studio lobby!
Youth & Adult Sizes!
General Studio Info
Enroll ONLINE
Review Descriptions & Attire for details on classes & what to wear!
*Masks are currently optional. This includes in the lobby, store AND taking class.
Visit Contact Us for studio
hours and contact info
Parent Visiting Week
Monday, Dec 5 - Saturday, Dec 10
During regular classes
Watch class & get Recital info!
1 adult guest per dancer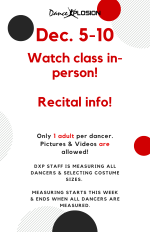 Recital Participation Form
Please complete by Jan 31, 2023

Fall-Spring Classes OPEN
Registration open until Jan 31, 2023
Girls & Boys * Ages 2-18
10+ styles * 90+ classes
Returning Dancer in Level 1-5
Review the Class Level Recs on your dancer's online account!
New Dancer in Level Adv 1-5
Contact us for level placement!
New & Returning Dancer in Preschool - starting Level 1
All classes are age-based!
Must be minimum age by Sept. 1st
Visit Fall-Spring Classes
Enroll ONLINE
Happy Feet Winter Dance Camp
Tuesday, Jan 3 - Thursday, Jan 5
Ages 4-8
9am-12pm
Enroll ONLINE