IGNITE Summer Dance Intensive
Dance Xplosion®'s IGNITE Intensive is an incredible dance experience featuring the top choreographers and master teachers from LA and NYC flown to Austin just for this event!

*Monday, August 5 - Thursday, August 8, 2019
*9am-4pm every day
*Ages 5-19
*Registration is limited so contact us ASAP.
*Payment plans are available

Faculty for IGNITE 2019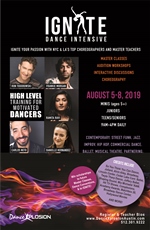 Register ONLINE for IGNITE!
Summer Workshops
Dance Xplosion® offers several 1-day workshops for dancers interested in taking their skills & technique to the next level.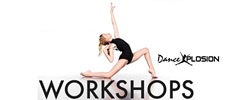 Register ONLINE for the Summer Workshops!

Master Classes
Throughout the year we have "Master Classes" where we host special dance teachers from around the country to teach one-of-a-kind classes just for Dance Xplosion®!
What to Wear for Intensives
Appropriate attire is based on the intensive. Please contact the Studio for specific details.

What to Wear for Master Classes
Appropriate dance shoes are required, i.e. jazz shoes, ballet shoes, hip hop sneakers, tap shoes, etc.

Students must wear tights and any color leotard for ballet class. Students may wear other dancewear during non-ballet classes, i.e. dance pants, bootie shorts, dance tops, other non-baggy attire.

For ballet classes, hair must be pulled into a tight, secure bun with a bun cover or hairnet thoroughly pinned on.

What to Bring for Master Classes
A bottle of water. Only water is allowed in the studios.